"Just one day after Merano and who are lonely running to Aprica? Still him: the Alpi hero, the thin Marco Pantani from Cesena, his magical muscle fibers and his lion's heart. He climbed the tremendous Mortirolo and detached Indurain that seemed invulnerable. Two days of such intense glory that would be enough to fill a career, but Pantani just started. "
"He got up on the pedals and is gaining ground against Miguel Indurain, let's see if Miguel lets him go, or if he uses a tactic to retrieve him … lonely he just stands up on the pedals and he's making trouble Miguel Indurain" .
On the Mortirolo was born the Pantani myth: it was the year 1994.
The Carrera standard-bearer, not yet "The Pirate", breaks into Mortirolo asphyxiating bends, downhill keeps trackers down, including Indurain. For once trying to attack and not only to defend themselves in the climb to picking up the Berzin wheel.
The challenge was launched and is one of the most beautiful in the history of the Giro d'Italia. Pantani before the last mountain, Santa Cristina, is waiting for Indurain to work togheter for eliminate Berzin, but the captain of Gewiss Ballan has steady nerves, limiting the damage by following Belli, Chiappucci and Gotti. On Santa Cristina, Pantani continues to accel and says goodbye to the company.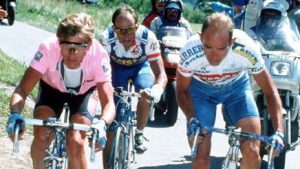 Indurain goes into crisis and loses precious meters, Chiappucci hits second place heeled by Belli and Rodriguez who succumb and overtake Miguel Indurian, "the Navarro" Gotti is waiting for Gianni Bugno.
But the showcase only belongs to a cyclist.
Marco Pantani wins, indeed triumph in Aprica with 3'30" on Indurain exhausted by fatigue. Berzin, accuses 4'6″ deficit but retains the pink jersey, Bugno recovers in the final and closes with 5'50" of delay.
Marco Pantani will not win the Giro d'Italia – he will be on the podium, second behind Berzin – but on Mortirolo on that June 5, 1994, the myth of Marco Pantani was born.
The Pirate, Marco Pantani, wrote one of his most beautiful tales. That is why it is one of the toughest stages of cycling.